Banner Named One of the World's Most Trustworthy Companies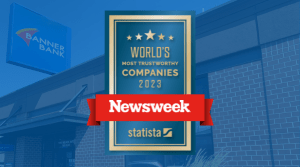 Newsweek has named us one of 2023's World's Most Trustworthy Companies. This prestigious list is compiled by Newsweek, in collaboration with market research partner Statista Inc., the world-leading statistics portal and industry ranking provider.
"We are humbled to be included among some of the world's most well-known brands," said Banner Bank President and CEO Mark Grescovich. "Trust is the cornerstone of banking so being recognized as one of the most trustworthy companies in the world is a tremendous compliment."
The World's Most Trustworthy Companies were identified from data collected as part of an independent survey based on 269,000 evaluations focusing on the three main public pillars of trust: Customer Trust, Investor Trust, and Employee Trust. Respondents were asked how much they agree with statements like "I trust in this company to treat me fairly as its customer," "I trust that this company is competently led" and "I believe this company treats its employees fairly."
From there, they used a three-step process to analyze the results and create the final list, which includes companies across 23 industries from 21 countries. In all, 24 U.S.-based banks made the list, with Banner Bank the highest ranking traditional bank on the West Coast.
This is the first year Newsweek has assembled the list. Earlier this year, Newsweek also named Banner Bank to its list of the
Most Trustworthy Companies in America
, using similar criteria.
View
Newsweek's complete list of the World's Most Trustworthy Companies 2023