Commercial Mastercard Credit Card

Choose from two credit card options to manage your business expenses:
Commercial Mastercard® provides full capabilities with no annual fee
Commercial Rewards Mastercard adds the benefit of earning TruRewards® points from your company's spending∉
With this Banner Bank credit card, you'll get:
With Banner Bank's Commercial Mastercard, you'll get:

Earn 1% Cash Back
Cash back statement credits are earned at a rate equal to 1% of your qualified spending.

Online Access Made Simple
View bills and statements online, and even pay your bill online if you wish.

Management Reports and Tools
Receive useful reports and have access to important tools that will help you manage expenses.
Accepted Worldwide
Mastercard is accepted at millions of locations around the world and provides the added security of chip technology.
Earn TruRewards points
Commercial Rewards cardholders earn 3 TruRewards points per dollar of net retail, internet, phone or mail order purchases. Points can be redeemed for cash back, travel, gift cards or merchandise. See what rewards you can earn.
Combine Points
Earn rewards for your business even faster by combining all of your cardholder's points into one TruRewards account.
Mastercard Purchase Protection
Auto Rental Collision Damage Waiver
When you charge the cost of a rental car to your Commercial Mastercard, you'll receive automatic coverage from Mastercard.⊗
Travel accident insurance
Identity Theft Protection
Free additional cards
No charge for additional charge for employees (without rewards).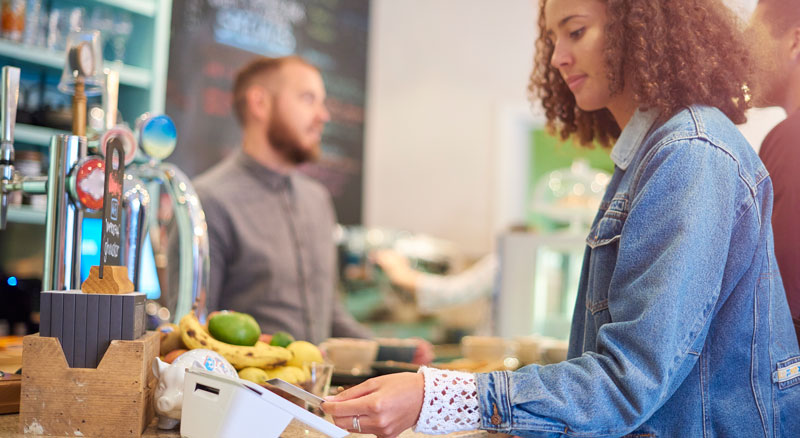 Purchases are even easier with contactless credit cards
Tap to pay using your new Banner Bank credit card at any terminal that supports contactless payments. Look for the contactless symbol and tap once to pay.
If the terminal doesn't support contactless payments or digital wallet, simply swipe or insert the card.
Ways to keep your card safe:
Credit Card Fraud Notification
When you provide us with your mobile phone number, we'll text you if we notice suspicious activity on your card. Otherwise, we may contact you by phone if we detect suspicious activity.
Real-Time Credit Card Notifications
When you provide us with your mobile phone number, we can text you fraud alerts for your Banner Bank credit card. Simply reply Yes to confirm your credit card activity or No for unauthorized transactions. Text messages come from short code 86975.
∉
Annual fee of $10 per card if selecting Mastercard® TruRewards® option
⊗
Certain restrictions and exclusions apply. Insurance coverage underwritten by New Hampshire Insurance Company, an AIG company. Only available to residents of Oregon, Washington, Idaho, and California.