Paying College Tuition & Expenses
Saving for college
Student budgets
Student loans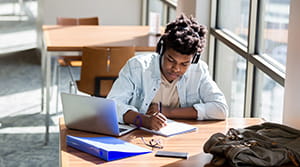 As any history major can attest, "All roads lead to Rome," and by the same token, there is more than one way to pay for college. Here are several different routes to consider before making the collegiate education journey.
Saving
When it comes to saving for college, it's never too early to start, but there are important points to keep in mind. A student's assets, including a savings account in their name, can limit their eligibility for larger amounts of federal student aid.

When selecting a savings method, choose wisely. Options like 529 college savings plans, prepaid tuition plans or Coverdell Education Savings Accounts allow parents to save or pay for college tuition ahead of time. The added benefit to these accounts is that they do not incur tax on savings income—provided the funds are used to pay for qualified tuition expenses.

"Saving" isn't limited to savings accounts and investments. Students can also save by buying used books, attending community college for certain classes and living off campus, if it's less expensive than student housing.
Scholarships
Essentially free money, scholarships needn't be repaid, are available to a wide range of students and are offered by schools, employers, companies, and professional and social organizations. You can find scholarships by contacting the school's financial aid office and by using the U.S. Department of Labor's Scholarship Finder.
Grants
Similar to scholarships, grants do not require repayment. They are awarded by the federal government, states and colleges. Unlike scholarships, grant eligibility is based on financial need. To be considered for a grant, students must fill out the Free Application for Federal Student Aid.
Work-Study
Students filing the FAFSA to apply for grants may also find they're eligible for Federal Work-Study. These programs provide part-time work for students in need of financial assistance. Jobs can be on- or off-campus. On-campus employment is offered by the school while off-campus employment is provided by a public agency or non-profit.
Loans
Federal and private loans are another option and must be repaid, with interest. To apply for a federal student loan, students should start by completing the FAFSA. Private loans tailored to student needs are another viable option, especially when covering gaps in funding between scholarships, grants or federal loans.


To learn more about how we can help you finance college, visit our Student Loans page