Financial Advice for Expecting and New Parents
Personal savings
Saving for college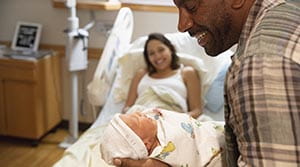 If you're like most expecting and new parents, you wonder if you have a clear view of the costs associated with raising a child. The USDA has been tracking these expenses since 1960 and their most recent data indicates it will cost $284,570 for food, shelter, and other necessities to raise a child through age 17. This does not include extra activities, family vacations, college education or expenses during pregnancy.

As you budget for expanding your family, here are four of the most significant expense categories to consider, and several tips to help stretch that budget further:
Consider a Health Savings Account (HSA) for Medical Expenses
Traditionally, a woman sees her healthcare provider multiple times throughout her pregnancy; and after the baby arrives, you'll want to account for their visits, too. Childbirth and the related expenses will likely be your largest medical cost the first year. It's important to understand your insurance coverage as many plans don't charge copays for pregnancy and well-child visits. One financial product to consider that can help you manage these types of expenses is a Health Savings Account (HSA). An HSA is a type of savings account that lets you set aside money on a pre-tax basis to pay for qualified medical expenses such as deductibles, copayments, coinsurance, etc.


Budget for Maternity/Paternity Leave
Planning to take time off work—whether it will be paid or not—will affect your household finances for the coming year. Now is the time to be sure you know and understand your company's benefits. For example, if your company offers maternity and/or paternity leave, how much time is offered and how do you apply for it? You'll also want to read up on state and federal paid and unpaid leave options. If you will be without your income, it's important to start saving as early as you can to create a financial cushion.


Explore a Flexible Spending Account (FSA) for Daycare Expenses
Deciding who will care for your little one is a very personal choice. Thinking about it early and accounting for your choice in your budget will help ensure you're prepared. If you will be using childcare, find out if Flexible Spending Accounts (FSA) are included in your benefits package. An FSA is a tax-advantaged account you can use to save on dependent care expenses. Using pre-tax payroll contributions to pay for these out-of-pocket costs can add up to real savings. Most employers have annual enrollment so be sure to research what's available to you.


Plan ahead for Education Costs
Understandably, education costs are not your top priority when you find out you're expecting. However, education is the largest expense related to raising a child, so it's important to start thinking about your options early. If you intend to send your child to a private primary or secondary school, be sure to research the cost and add it to your budget. And check out our Paying College Tuition & Expenses blog for more tips and guidance.

The reality is children are expensive. The key is to create a realistic budget and revise it as your child grows. Also, establish an emergency savings fund to help manage unexpected expenses—because it's not IF but WHEN you'll encounter those. To help you preserve the funds for true emergencies, it's best to open a dedicated interest-bearing account so your savings will grow alongside your child until you need to draw on it.

Parenthood is an exciting and ever-changing journey. Being financially prepared will help ease your mind during pregnancy and as you raise your child.