What to Know When Switching Banks
Personal savings
Personal Credit
Business planning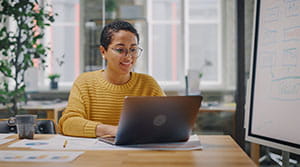 Thinking of switching banks? Moving money can be a big decision, so whether you're deciding to change banks out of necessity or because it makes more sense financially, it's important to know what to expect before you make the switch and plan how to move your money responsibly. Here are a few things to consider before switching banks:
Do Your Research
Compare banks carefully to ensure you're finding the best fit for your financial needs. Your choices normally include a traditional bank, credit union, or an online bank, and with so many options, it's helpful to identify things you want in a bank. Think about different bank fees, features and benefits you want like mobile check deposit or automatic bill payment, or interest rates you can earn on savings.
Understand the Expectations of Opening a New Account
It's important to know what is required before you open a new account. You will likely need your social security number or ITIN and driver's license. Most financial institutions usually give you an option of opening an account online or at a branch location. You can apply for various Banner Bank accounts here. Also, a minimum opening deposit is likely required, so, make sure you have enough money saved when opening an account. When a new account is opened, you will be able to transfer funds from your previous bank. It could take a few days for you to receive debit cards in the mail and for your new account to get set up, so I recommend opening a new account at least a week before you plan to transfer money.
Fund Your New Account
You can move funds from your old account to your new one by either writing a check, or by making an online money transfer. Remember, some banks charge fees for online transfers.
Redirect Your Automatic Payments and Deposits
This is a very important step to make sure you have a smooth transition. Consider making a list of all your automatic deposits, recurring subscription payments, transfers from linked accounts, credit cards, utilities, gym membership fees and any other automatic transactions. Review your new account to make sure these transactions clear before closing your old account. You can encounter problems if bills or recurring payments are sent to your old account.
Know How to Close Your Old Account
Once your transactions are clear and your new account is in good standing, you can officially close the old one. You can close an account online, call your old bank or visit one of their branches. Most savings and checking accounts can be closed for free, but some banks and credit unions could charge an early withdrawal fee if time deposit accounts or a certificate of deposit is closed before its maturity date.
There can be a variety of reasons to change banks. To simplify the process, I encourage you to research what to expect when finding the right fit for you. You can reach out to one of
our branches
to speak with a knowledgeable banker to learn more about joining Banner.