4 Tools to Manage Key Business Transactions Remotely
Business planning
Commercial lending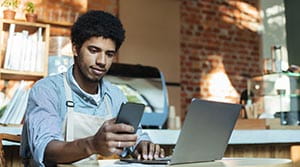 Whether you need to be home caring for a child or waiting for a repair person, being able to manage your business remotely is an option whose time has come. A good banker can help you keep your business running smoothly when it feels like you need to be in two places at once. If making and receiving essential payments are among your key roles, here are a few secure tools to consider.

Send and receive payments electronically:
ACH (Automated Clearing House) Services let you send and receive funds between your accounts and those of others. ACH is ideal for direct deposit of payroll into employees' accounts. It's also great for sending electronic payments to vendors to pay invoices, and pulling payments from consumer accounts to collect dues, rent or other receivables. Schedule transactions in advance, and process same-day transactions. This solution frees you from handling and mailing paper checks.
Wire Transfers can be used to quickly process same-day and future-dated domestic and cross-border wire payments, including detailed payment instructions, in U.S. or foreign currencies. They are usually reserved for large dollar payments that require "guaranteed" funds.
At Banner, clients can use their own computers and secure internet access to easily connect to wire services via our Business Online Banking.
Deposit checks from your remote desktop:
Remote Deposit is a quick, safe way to deposit checks from single or multiple locations to single or multiple accounts through online banking. With a secure internet connection and a check scanner you can skip trips to the bank, reducing the time, cost and risks associated with in-person deposits.
The scanner captures and transmits images of checks for deposit to your bank with your deposit information. Using a scanner suited to your check volume enhances the deposit process. Depending on your bank, you may request a scanner with your Remote Deposit service, purchase a scanner or use one you already own. All three options are available at Banner.
Business Mobile Remote Deposit lets you securely deposit checks anytime or anywhere using your camera-enabled smartphone or tablet. It's an ideal, low-cost solution for companies with lower check volumes and remote field personnel. You may already use an app like this to deposit checks into your personal account (Banner's is called Snapshot Deposit™ and it's available in our Mobile Banking app). Your business solution should include security, tracking and customization features.
As you explore these and other options for your business, be sure to ask your banker about their team's technical expertise and support. You should expect responsive service and reliable support.