How to Master the 5 Cs of Business Bank Loans
Business loans
Commercial lending
SBA loans
Business lines of credit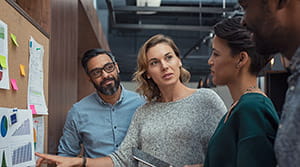 If you are thinking about applying for a business loan, familiarize yourself with these five loan criteria (5 Cs), a test and be ready to discuss them with your banker:
Capacity:
Capacity evaluates whether you can repay a loan. Do you have cash flow to make a payment? If your business is profitable, that's a strong indicator that you have capacity. For an individual, be prepared to share personal financial statements for similar evaluation.
Capital:
Capital means you are invested in the business and have some skin in the game. It's OK to have debt, but at the end of the day you should also have equity in the firm.
Collateral:
Collateral looks at assets that will secure the loan, like inventory, equipment or accounts receivable. As an SBA Preferred Lender, Banner Bank works closely with the Small Business Administration in cases where collateral may be a concern. Our SBA team members also have the experience and expertise to streamline the loan process.
Conditions:
Why are you seeking a business loan? It's important to be open with your banker so we know all the pertinent information about your company and can better advise our clients.
Character:
For Banner Bank, an applicant's character is paramount. Are you a good operator? Active member of the community? Like you, banks want to do business with reputable companies, and people.
Of course, there are other factors in securing a loan, but preparing your information goes a long way in advancing the process.
What questions do you have about business loans? Visit our Business Loans page to learn more and connect with a local business banking expert.