Take the growing pains out of business expansion, part one
Business planning
Business loans
Commercial lending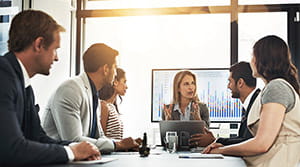 Businesses often pursue growth as a way to increase revenue and profit, and that's admirable. Of course, it's never quite as simple as doubling your size in order to double your profit. Companies that grow at breakneck speeds can be challenged to keep tabs on the details, maintain staffing to serve customers well and manage the financial aspects of the business.
As a commercial banker, I've seen businesses struggle after expanding too quickly without the right supports in place. That's why I advise businesses to manage growth for long-term success. One essential component involves the members of your team.
Here are three recommendations for surrounding yourself with specialists inside and outside of your business:
1. Partner with experts you trust.
Whatever stage of development your business is in, you'll benefit from a team of people whose knowledge and values you trust. It's vital that you feel comfortable consulting your advisors when making key decisions, especially when your company is evolving quickly.


2. Expect knowledge and passion.
The accountants, attorneys, bankers and other professionals serving your company should be as passionate about your success as your own management team. As someone who serves in that role for a variety of companies, I feel strongly about the level of service you ought to expect from your banker. A true partner is available beyond nine to five, Monday through Friday.


3. Seek robust, long-term relationships.
Your financial partners should be in it for the long-haul, and that begins with taking time to get to know your business and industry. That insight, along with ongoing, two-way communication, allows an experienced banker to offer information and solutions to suit your situation. The goal is to help you maintain an edge and prepare for market fluctuations.
I can't emphasize enough the importance of talking with your banker before you decide to grow or change directions. The key is to be proactive, not reactive. If you're contemplating expenditures, you'll want an experienced financial partner who understands the challenges and needs of your business. This is essential to making sure you have the credit facilities and structure in place to support your plans when you're ready to act.
And while your financial institution should offer resources and expertise to help qualified borrowers meet expanding opportunities and demand, your banker should do more than make loans. Look for part two of this blog, detailing seven specific ways your banker can, and should, add value to your growing business.