3 Benefits of a Business Savings Account
Business planning
Business savings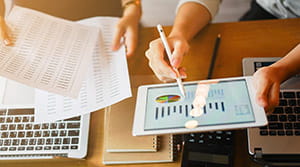 Saving for the future is not only a good idea for individuals, it's a smart strategy for businesses. Having a savings plan in place can help your business avoid paying interest when making major purchases, provide a financial cushion during economic downturns or enable you to expand your business when the time is right.
Save for major purchases. If your company is able to save for a major purchase, such as equipment, paying with cash is fast and easy, with no added interest expense, and in some cases allows for quick discounts or rebates. Be sure to consider the impact to the company's working capital when utilizing your savings for major purchases. Will using your cash savings adversely impact the business' ability to meet other short term obligations such as payroll or loan payment? Having a balanced savings plan to replace assets is important and can help save your business money in the long term.
Provide financial cushion. Many businesses have a seasonal sales cycle, and some industries like agriculture and manufacturing see dramatic fluctuations between high and low seasons. The more frequent and deep the downtimes, the more savings your business should have. Even for those businesses that see little to no downtimes, it's a good idea to plan for the unexpected. Just as financial experts recommend that individual households have sufficient emergency savings to meet monthly expenses, so should your business.
Expand and grow. You never know when the opportunity to expand your business may present itself, or you may wish to strategically plan for growth. Depending on when you want to have quick access to your savings, there are options for businesses beyond the traditional savings or money market accounts. Certificates of Deposit (CDs), for instance, can provide the opportunity to earn more interest for money that can be tied up for longer periods of time. By laddering CDs, differing maturity dates help make the savings more liquid while generating more interest income. Investment sweeps are another option to automatically move money from a lower-earning interest account to those than earn higher rates. Utilizing the various savings accounts can allow you maximum flexibility and returns to take advantage of expansion opportunities.
No matter what your business goals are, having a solid financial cushion in place can help increase the long-term stability of the company. How can we help your business create a savings plan? Banner Bank has a wide variety of savings, money market, CD and sweep accounts for businesses – and we're here to help guide business owners to the right solution.