Four Tips to Enhance Your Company's Agility
Business loans
Business planning
Commercial lending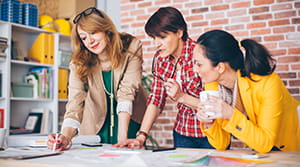 Whatever your company's goals and strategies are for the year, it's smart business to always be prepared for the possibility of change. Even positive changes, such as a new client or a project opportunity, can strain businesses of any size. The key is to be proactive, not reactive.
Business agility—the ability to quickly scale up to meet new demand or adjust in a downturn—really comes down to knowing your numbers:
1. Keep tabs on your financials.
Your recent profit and loss statement (P&L) and balance sheet help measure profitability and improve performance. They're vital when talking with your banker about opportunities and risks, and determining your funding needs. If you wait until you're ready to act, it will be too late to ask your accountant to update your financials.
2. Understand your company's debt.
You'll be in a better position to discuss options for paying down debt or planning for increased capacity. Having debt is not a negative—it's part of doing business as long as it's in balance.
3. Assess and improve your cash flow.
An experienced banker can provide an independent analysis and offer tips and tools for improvement. It may be as straightforward as determining where you can delay payment or accelerate receipts.
4. Have a plan to increase capacity.
Plans add stability and help reduce risk, and can be adjusted as your situation and the market change. But if you wait for a new project or client, it may be too late to formulate and activate a plan, and you could miss your opportunity.
In addition to remaining nimble, it's important to surround yourself with trusted partners—accountants, attorneys, bankers, and other advisors. In today's marketplace, all types of companies can benefit from working with bankers who have the experience and resources to help you pursue your goals and guide you through familiar and unfamiliar aspects of doing business.
Take advantage of those resources—you deserve robust service. As you aim to improve your company's resilience and adaptability, expect your financial experts to work hard every day to earn your business and help you succeed.