7 ways your banker can add value and take the growing pains out of business expansion
Business loans
Business planning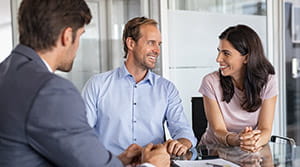 Companies that grow rapidly can face unique challenges, from meeting demand to maintaining favorable cash flow. The good news is that you don't have to go it alone. Having a team of trusted advisors is invaluable as you face key decisions and find yourself stretched to manage the details.
When it comes to your banker, expect service that goes well beyond offering loans and lines of credit. You might be surprised at the many ways a strong financial partner can support your company's success.
Seven ways your banker can add value:
1. Understand your business and industry.
You deserve a financial partner who listens and grasps your challenges.
2. Assist in reviewing financial forecasting and projections.
Think of your banker as an expert to help you plan for expansion, while also preparing for economic downturns.
3. Provide independent cash flow analysis and tips to gain financial efficiencies.
It may be as straightforward as determining where you can delay payments and accelerate receipts. A good analysis can also help make the most of solutions such as sweep accounts to leverage cash flow and interest rate swaps to mitigate interest rate risk on long-term loans.
4. Educate you on new issues and possible outcomes.
An expert who's informed on changing laws, economic forces and business trends can help you avoid hazards and benefit from opportunities.
5. Be a sounding board and provide ongoing advice.
Your banking relationship manager should check in with you regularly and welcome your questions and ideas any time.
6. Offer a unique perspective and tailored solutions.
A good partner will respectfully challenge you to consider new approaches supported by sound rationale with your profitability in mind. That includes collaborating with other experts at the bank to recommend options such as merchant services products, treasury management solutions and tools to simplify importing and exporting goods and services. A good working relationship can give you access to distinct tools, like Banner's QuickStepTM Loan, designed to help businesses purchase equipment or commercial real estate in a timely way.
7. Partner with other experts to serve you well.
As your company grows, you'll benefit the most when your banker collaborates with other members of your advisory team to make recommendations in your best interest.
As a knowledgeable, trusted member of your team, your banker can help you manage growth in an ever-changing economy. Given the importance of your business to the economy, you deserve experts who will work hard to help you succeed. See part one of this two-part blog.