Rebuilding Your Business
Business lines of credit
Business loans
Business planning
SBA loans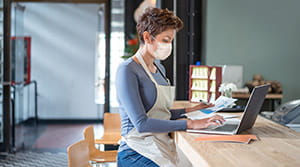 Running a business is always challenging, but some years bring more disruption than others—from natural disasters to the now too-familiar pandemic. If you own a business and are looking to rebuild and find a new path for success, I offer these ideas from a financial perspective to help you move forward and thrive:
Surround yourself with experts you trust –
From your accountant to your attorney, your advisors should be knowledgeable and as passionate about your company's success as you are. An experienced banker can help evaluate your financials, offer tips to improve cash flow and connect you with other helpful experts. They'll work with you to determine the best financing solutions, if needed, to help shore up or jump-start your business.
Assess your situation –
Update your profit and loss statement and balance sheet, and compare the numbers to last year's. Review your debt, and partner with your banker to assess your need for financing and the appropriate structure for that. Debt is a common part of business and can help your company grow, as long as it's in balance.
Evaluate your industry, your competition and the market you serve. Consider how your customers' needs have changed. Be honest in assessing your company's strengths, weaknesses and projected earnings. Think about the role of employees in a safe, productive workplace.
Revisit your business plan and goals –
You may have already adjusted your business model to survive some of the toughest times. As you update your goals, determine if you have the resources to implement them.
Prioritize your goals –
Be realistic. If you want to hire more employees, add inventory or expand locations you'll likely want to do it in phases. If you need to pay down debt, talk with your creditors and work out a plan. Consider building a timeline to help you stay on track for long- and short-term goals.
Reevaluate your budget –
Your income may have declined, while many of your expenses remained fixed or grew. Now that you've analyzed your financials and decided on a course, you'll want a clear idea of the expenses you can cut and those you need to allow to pursue your vision and explore new opportunities for revenue.
Always be planning –
Having a realistic working plan helps you prepare for economic highs and lows, and allows you to change course when appropriate. You may aim to cut expenses and build reserves. You may want to expand or fine-tune your company's remote-work solutions. Or, depending on the life stage of your business, you may look at succession planning. Ideally, your plan will include strategies for various scenarios, including pandemics.
As you rebuild, count on your proven advisors for guidance. Expect your financial partners to deliver exceptional service and sound advice. An experienced banker will know when to recommend options like SBA financing or solutions like Banner's QuickStepTM Loans to help your business tackle opportunities in a timely way.
In addition to being a source of financing, your banker should understand your needs and routinely offer ideas to help improve the financial aspects of your business. That includes collaborating with other members of your team and specialists at the bank in areas such as treasury management, merchant services and international trade.
A good financial partner will work hard every day to help you succeed.