Family Business Success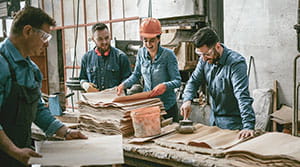 Family businesses often have the advantage of a tight-knit, invested management and employee team. At the same time, family businesses can face unique challenges, often tied to family dynamics and relationships within a larger group.
As a banker, I've worked with outstanding family businesses, where a shared bond is a motivating, unifying factor. Yet, even in close, well-adjusted families, old sibling rivalries or parent-child dynamics can rise to the fore. The ideal is to find a path that makes the most of everyone's strengths.
The success of a family business has a lot to do with planning. It also involves balancing leadership and inclusion.
Tips to help your family business thrive:
1. Make a business plan – Agree to assigned roles and responsibilities, and set clear expectations. Decide what qualifications are needed to be part of the business now and in the future, and determine how profits and losses will be divided. Formalizing agreements when everyone is getting along helps avoid problems, and solve issues that may arise.
2. Schedule regular, formal meetings – Meet regularly—not at the dinner table—to review company operations, finances, goals and opportunities. This can help prevent work topics from creeping into family time and may limit personal topics from interfering at work.
3. Keep your financials in order – Maintain financial statements and keep a good handle on debt. Your profit and loss statement (P&L) and balance sheet help you measure profitability and improve performance, and are vital when talking with your banker about opportunities and risks. If you understand your company's debt, you'll be better prepared to discuss options for paying it down or increasing capacity when it's time to expand or retool your business.
4. Welcome outside expertise – If you need someone proficient in, say, manufacturing or management, consider hiring outside the family, and be sure to treat the employee fairly. By the same token, a team of trusted outside experts such as an accountant, attorney and banker can help you tackle tough decisions and prepare for the future. You may even want to consult a counselor specializing in family businesses, enlist an outside board of directors or work with a family business center.
As you navigate the challenges, don't hesitate to contact a banker you trust. Not only can they assist you with cash flow analysis and financial solutions, they should provide advice and resources related to organizational structure, succession planning and more.