Agricultural Banking
Commercial lending
Agriculture loans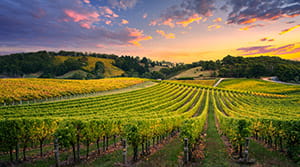 If you run a farm or one of the many businesses that are part of the food supply chain, you are an important part of our economy. Whether you're focused on day-to-day operations or preparing to pass on your business to the next generation, you deserve a banker who's knowledgeable about how you bring your product to market and passionate about helping you achieve your goals.


I've built my career on helping local growers and producers succeed. And I believe there are four tried-and-true considerations to help you know if you're matched with the right banker:
Apply the Golden Rule. Service is priority #1 with every business—including banking. Regardless of the size of your farm or business, you deserve outstanding service. If we're doing our job right in banking we are ready and willing to earn your business.
It's not you. It's me. As in our personal lives, a business relationship must work for both parties. There are reasons to switch banks. Maybe the complexities of your operations have outgrown your current bank, or you feel you've been sold the hot new product instead of what you need. Regardless of the reason, don't be afraid to "break up" for a better match.
Expect the best. Many financial institutions can fund a loan or line, but it's key to choose a banker with specific ag credit expertise to understand your financials and industry. Your banker should be a trusted advisor and a resource year-round, not just when your loan or line is up for renewal. A strong relationship is invaluable—think of it as anytime access to free expertise.
Are you on a first name basis with your banker? I believe this is the litmus test. A good banker should know why you're passionate about what you produce or sell and what sets you apart from your competitors. In fact, they should be the loudest voice in your cheering section, rooting you on as you achieve your financial goals.
Your banker should understand outside pressures like fluctuating fertilizer pricing, forward contracting and timing for cash flow. When you're matched with the right banker, they will proactively recommend financial solutions to make the best use of your hard-earned money and propel your business forward so you can focus on feeding America.