5 Top Reasons to Start Using Mobile Check Deposit Now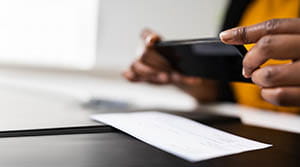 Even in today's digitally influenced world, many people still carry and use paper checks. It's a common way to pay rent, give a monetary gift, reimburse a friend or family member, or purchase items at a garage sale.
Mobile check deposit lets you safely deposit checks on the go into your account of choice. You simply use an app on your smartphone or other mobile device to capture an image of the front and back of your endorsed check. It's available at most banks, and is as easy as snapping a photo.
Mobile Check Deposit lets you:
Deposit checks at your leisure, day or night, from almost anywhere.
Save time and fuel.
Avoid traffic and trips to the bank.
Rest assured your deposits are secure.
See your deposits quickly credited to your account.
Banner's mobile check deposit tool is called Snapshot Deposit™. Once you've enrolled in Banner Online Banking, find our free Banner Mobile Banking app in the Apple or Android store on your mobile device. After you log in, select the Snapshot Deposit quick link in the app and follow the prompts. You'll find demos and more information to help you get started here.
With Snapshot Deposit, you'll be all set the next time Grandma sends you a check for your birthday or someone uses a check to buy your old golf clubs.
To learn how to protect yourself from phony checks, read our blog, Play it Safe.