5 financial tips for young professionals starting careers
Personal savings
Personal Credit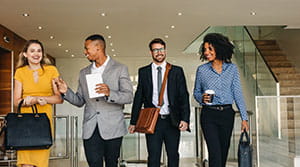 After years of hard work, landing the job that starts your career is a pivotal moment. It marks the start of your life in the professional world. As you share the news with your family and friends, and update your LinkedIn profile, there are a few other things you should consider that can help you manage your newfound income:

Set up direct deposit
Ask your employer if they offer direct deposit. Directly depositing your paychecks will give you the fastest access to your wages without waiting for your paycheck to arrive by mail and then depositing them yourself. Direct deposit can also aid in reaching your saving goals, as you can direct a percent of every paycheck to your savings account. Directing a portion of your checks to savings is less about the amount and more about creating a habit to help you save consistently.

Mobile banking
Once your money is in the bank, consider downloading your bank's mobile banking app. Mobile banking puts all the tools you need at your fingertips. You can use it to transfer funds to other accounts, pay bills, deposit checks and manage your money. Mobile banking makes banking fast, easy and accessible.

Save for retirement
Yes, you're just getting started, but your future self will thank you if you start saving now. If your employer offers a retirement plan, it's a great opportunity to take advantage of. Many employers offer matching contributions to their 401k packages. If yours does, do all you can to participate. It is an opportunity to double every cent you deposit into your retirement fund, getting you closer to your goal even faster. There likely are also tax advantages. The money you put into your 401k is tax deferred, so you don't pay taxes on it until after you retire when your tax bracket will likely be lower. * (*consult a tax advisor about your specific situation)

Pay off debt
As tempting as it is to use your newfound salary to make a few splurge purchases, now is a great time to take a fresh look your debts. Do you have outstanding credit card balances? What about student loans? Paying down your debts saves you money in interest and likely will also increase your credit score. That salary will feel even better once any looming cloud of debt is behind you.

Save for emergencies
While not wildly exciting, creating a financial buffer is one of the best ways to help your future self. Because we cannot predict the future, you never know when an unexpected expense may come your way. Your ability to pay the bill is the last thing you want to worry about when you have a medical emergency or car trouble. Experts suggest always having three to six months' worth of savings available. It will give you a sense of comfort and relief if you find yourself in a stressful situation.