Play it Safe. Tips to Protect Yourself from Check Scams and Fraud
Online identity
Personal Credit
Cyber Security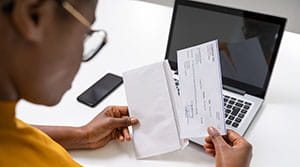 Scammers use many tactics to steal money—including paying people with fake checks. The phony checks can look like real business checks, personal checks, cashier's checks or money orders—and be for large sums of money.
In a fake check scam, a person you don't know asks you to deposit a check and send money or gift cards to another person. They may say you need to pay taxes or fees or buy supplies. Don't fall for it.
Once you send the money, the scammer collects and disappears, leaving you on the hook for the bad check. You see, by law, banks have to make deposited funds available quickly, but it can take weeks to verify that a check is fake.
Common check scams:
In these scams, the potential victim gets "paid" by check and receives instructions to deposit it and wire money or buy gift cards, equipment or supplies.
Mystery shopper – You're asked to review a business that sells gift cards or money orders or provides money transfers.
Personal assistant – You apply online and get hired to be a personal assistant.
Car wrap decals – People interested in car art or advertising are told to deposit checks and send the money to decal installers—who don't exist.
Prize winner – You are told you won a prize, receive a check and are asked to send money to cover taxes, handling charges or other fees. That's not a legitimate sweepstakes.
Overpayments – People buying something from you online "accidentally" send a check for too much money and ask you to refund the balance.
To avoid being a victim of a check scam:
Don't rely on money from a check unless you know and trust the person you're dealing with.
Never use money from a check to send gift cards or money orders, or to wire money to a stranger or someone you just met.
Never accept a prize you have to pay for. Real prizes should be free.
Never accept a check for more than the price of an item you are selling.
These tips are based on guidelines from the Federal Trade Commission.

To learn more:
Talk to your banker or visit the Federal Trade Commission website at https://www.ftc.gov/.