Five Money Management Tips When Heading Off to College
Saving for college
Student budgets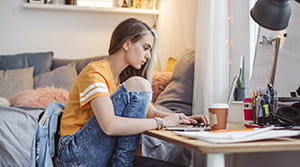 With so much buzz about the challenge of "adulting," students who learn good money management skills in college are way ahead of their peers in the game of life. In fact, the habits you develop now will lay the groundwork for achieving financial goals throughout your life. If you're currently in college or heading there, these 5 tips can help you get started.
Build a budget – Your budget is basically a plan that takes into account the money you have available—be it savings, job income, scholarships, loans or other financial aid—and balances it with expenses. In addition to tuition, fees and lodging, expense categories to consider include food, clothing, transportation, personal items (i.e. soap, toothpaste and cosmetics), books/study materials, entertainment and an emergency fund. Always have an emergency fund.
Set realistic expectations – Building a budget is easier than sticking to one, especially if you're new to managing money. College is a time for learning. So use your budget as a guide and allow yourself to learn as you go. You'll face some interesting decisions. For example, if you're not on the school's prepaid meal plan, packing a lunch rather than dining out will save you money over time. The same can be said for brewing your own coffee versus buying a latte every day. But no one expects you to be a martyr. Pizza with friends might a good reward that fits your entertainment budget.
Put the right tools in place – Start with an affordable checking account and debit card. Many banks offer low- or no-fee accounts students can open with a parent or guardian. Ours is called Connected Checking®, and it includes online and mobile banking with features like online bill pay and Snapshot DepositTM, no monthly service fee, no ongoing minimum balance requirement, and a Mastercard® debit card. Plus, use any ATM in the country and we'll refund the fees up to four times per calendar month.
Go easy on the credit – A credit card can be handy when you need car repairs and you're waiting for a stipend. Do your research to find a card that suits you; look for one with security features and a low or no annual fee. Interest charges and fees can add up, so use your card judiciously and pay it off monthly. That habit is one of the best ways to build a stellar credit score that will serve you for years to come.
Consider outside resources – If you're currently in high school, recently graduated, or already attending college, chances are you and your family have talked about how to pay for higher education. Scholarships, financial aid, and federally subsidized loans should always come first. There are additional options if you need them:
For families that own a home, a Home Equity Line of Credit is an option to fill the gaps between traditional financing and college expenses
Another is Banner Bank's Smart Option Student Loan® offered through our partnership with Sallie Mae. You can learn more about this loan and even apply online at: bannerbank.com/student-loans
If you're a student who would like some guidance with budgeting, check out this helpful calculator.