Five financial steps to take when a loved one dies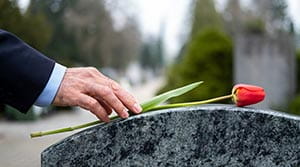 Losing a loved one is difficult on many levels. On top of feelings of grief and sadness, you may be planning a funeral as well as honoring your loved one's final wishes. While grieving, it can be especially overwhelming to sort out their finances. Your mind may be spinning with questions.
Where do I start and what needs to be done? Did the person leave a will? Do they have outstanding bills? Here are five steps you can take:
1.
Ask professionals for help

You are not alone. Many professionals are available to help you. Consider talking with a banker at your local branch. You'll also find resources online through professional associations like

The National Association of Personal Financial Advisors

or

The Financial Planning Association

. Some funeral homes and religious leaders can also offer guidance.
2.
Gather important documents and items

This will help you prepare to work with financial institutions and other third parties. Locate statements for bank and investment accounts, mortgage and loans statements, retirement accounts, as well as insurance, tax returns and bills. Items you will also need include:
Death Certificate - Your loved one's financial institutions will require a certified copy of a death certificate, as it serves as legal proof, allowing you to manage their financials. You can request it from the department of health in your state or through the funeral home you selected. Many companies won't accept a photocopy, so ask for multiple certified copies.
Letters of Administration or a Small Estate Affidavit – The Letters of Administration is an official document that names the estate executor and grants you permission to access the deceased individual's finances and assets, and to manage them according to state law. A small estate affidavit is a written statement that allows someone to claim assets outside of the probate process. Both documents can be obtained from your court.
Certificate of Trust – This legal document verifies the existence and legitimacy of a trust and proves a trustee's legal authority to manage it. Most institutions require it before allowing a trustee to act.
Safe Deposit Box Key (If the deceased had one) – If you provide proof of the death, your identity and a key, you will be allowed to access the safe deposit box.
3.
Notify key parties of the death

You'll need to inform institutions such as your loved one's employer, bank, credit agencies, insurance companies, the Veterans Administration and the Social Security Administration. Be sure to notify organizations like gyms that draw monthly fees from your loved one's bank account.

The bank can help you cancel debit or credit cards, return government deposits, stop automatic transfers and transactions, distribute funds in accounts to designated beneficiaries, and place any funds or accounts without beneficiaries in safekeeping.
4.
Check for remaining debt

Normally, debts are paid by the estate, but sometimes surviving spouses or other family members may be responsible for outstanding debt. For instance, co-signed loans like a vehicle loan or mortgage continue with the surviving borrower. Or, if you inherit assets with a lien attached, you likely will be required to continue making payments or sell the assets to pay off the loan.
5.
Utilize bank tools and resources

This process can be overwhelming, but remember, your bank specializes in financial matters and should be able to support you. At Banner, we can help you understand what is needed when accessing a lost one's financial accounts.

Other than notifying the account holder's bank, most details don't have to be addressed right away. The bank is responsible for protecting the assets as long as they remain in the accounts. If you need assistance opening an account to manage proceeds and bills of the estate, a member of our branch team would be happy to help.

Find a Banner location

near you.