5 Financing Tools to Help Transform Your Home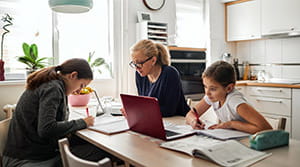 A home is more than a roof over our heads, filling many needs, from sanctuary to gathering place. The demands we place on our dwellings change as we do, and as our families expand or contract. Outside influences impact the way we use a home too. With the pandemic, homes took on the roles of workplace, classroom and entertainment center—often all at the same time.
So how do we get a home to meet our evolving needs? If the inventory of houses for sale is low, people may stay put and update their home. Some will look to buy a place with potential and remodel it. Others will choose to build a dream home.
Whatever you prefer, here are a few financing options to consider:

A HELOC is a flexible tool that lets you use the equity you've built up in your home to finance various projects including home improvements. You draw upon the funds as needed, and only pay for the money as you use it. It typically has a variable interest rate so you could pay more if rates go up. With a Banner HELOC, you can use a Mastercard to easily access your funds, pay contractors and buy items at a home improvement store—and earn rewards points.
If you like your home, but want to make some changes such as roofing, flooring, paint or windows, consider a home renovation loan. It uses the value of your home after improvements, increasing the amount you can borrow with the security of a fixed interest rate. At Banner, you can borrow up to $50,000 for projects that can be completed within three months and don't add square footage.
This gives you the option to build your dream home or do a renovation costing $50,000 or more and adding square footage. With a 12-month project completion window, the all-in-one loan offers more flexibility than a renovation loan. You can also use this loan to purchase the land and combine the cost of the lot with the cost to construct your new home.
For flexibility and choice on when and how to use your funds, consider this fixed-rate mortgage. You refinance your existing home loan with a new loan for a larger amount and you get the difference between the two loans in cash. It's a way to turn the equity you've built up in your home into money you can spend on home projects or purchases such as new appliances, fixtures or furnishings.
Owner-Builder Loan
If you're a builder or tradesperson with the time and experience to construct your own home, you may qualify for owner-builder financing. While not available at all lending institutions, the loan is offered at Banner and can help make construction more affordable. You'll want to work closely with your loan officer to make sure it's right for you.
Whichever way you go, you'll benefit from working with a knowledgeable loan officer you know and trust. You'll want a financial partner who listens and can explain the pros and cons of various options. Be prepared to share how long you plan to stay in the home, as well as your timeline, budget and expectations. A good partnership is key to a positive financing experience.
Learn more about a Banner Bank HELOC or Mortgage solutions to renovate, build or buy your ideal home.