Buying a House – What to know in a complicated market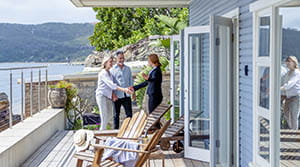 Working in mortgage lending, my colleagues and I frequently educate and advise people on one of the most important decisions of their lives—buying a home. We enjoy helping people find the right home loan for their situation. Naturally, the decision to buy a house is influenced by the economy and the housing market.
When the demand for housing outpaces the supply, home prices go up, leading consumers to revisit their timelines and reconsider how much house they can afford. The same thing happens when interest rates rise, making it cost more to finance a home. Add in inflation and many potential homebuyers find it more difficult to save for a down payment and monthly mortgage payments. As we've seen, it can be especially challenging when these factors converge.
It's always important to be aware of the market, but not let it overwhelm you. The economy is always changing and every market situation is temporary. If you have the income, credit and total down payment as well as cash ready to buy, then now may be the perfect time to buy a house. Here's why:
You can never time the market perfectly. Think of the real estate market and the financial markets as living, breathing entities that fluctuate daily, weekly and monthly based on a variety of factors, including the U.S. economy and what's happening in your local area. Historically, both the stock market and the real estate market have increased over time. While the markets may decline, history has proven they rebound and appreciate in value.
You have to live someplace and pay for your lodging one way or another. If you are renting, you are helping pay someone else's mortgage.
Each month you make a mortgage payment, you are one month closer to financial freedom and building generational wealth. There's satisfaction in having a home you can call your own.
Homeownership affords a more stable, predictable housing payment. You can budget and plan for other goals without worrying that your landlord will raise the rent.
You may be able to deduct the interest paid on your mortgage to lower your income tax bill. IRS rules are complicated, so be sure to talk to your accountant or tax advisor.
Buying real estate is one of the few opportunities with the benefit of leverage. As you build ownership in your home over time, you could tap into that equity in various ways. For example, a Home Equity Line of Credit (HELOC) lets you use your equity to access cash to pay off bills, make home improvements and more. And a cash-out home refinance offers a way to withdraw a portion of your equity as a lump sum.
Whether you're ready to buy a home today or need more time to save money and assess your local housing market, I encourage you to connect with a mortgage loan officer you trust and feel comfortable working with. You'll want a knowledgeable partner who listens, explains the loan process and answers your questions along the way.
At Banner, we offer several helpful home loan solutions, including our Affordable Mortgage Program. And we have many mortgage loan officers who particularly enjoy educating and serving first-time homebuyers.