I Want to Buy a Home Part 1
Home loans
Personal savings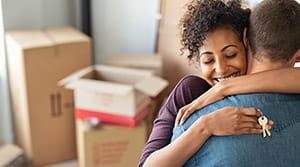 If you're thinking about entering the housing market for the first time or if it's been a while since you purchased a home, here are four things to consider.

Determine How Much Home You Can Afford
What do you pay for housing now? Does it feel just right, a little high or could you afford more? Understanding how much you can pay on a monthly basis will guide you in determining the amount you can afford. Use a mortgage calculator to estimate your monthly payment. Assess your debt-to-income ratio and make sure you're comfortable with the amount you pick. Factor in other expenses, including insurance, utilities, possible HOA fees and a little more maintenance than you may have as a renter.
Know Your Credit Score
Lenders will consider your credit score when determining loan terms and interest rates. A higher credit score will lead to better options for you. Check your credit score with a lender during the prequalification process before you begin serious house hunting, and address any concerns that may be bringing your score down.
All credit scores are not created equal; the score your lender uses may differ from those provided by a credit card company or credit service. Meeting with a lender early in the process can clear up any misinformation and get you started with the right information.
Learn About Your Mortgage and Down Payment Options
While we've all heard you should put 20 percent down to buy a home, this isn't always required or even typical. Many buyers may qualify for programs that allow them to put as little as three percent down with conventional loans, or three and a half percent down through Federal Housing Administration. Also don't forget about a Veterans Affairs (VA) loan if you have served in the military. The VA doesn't require any down payment in most cases. Research your options to see what's possible and best fits your situation.
Save for a Down Payment and Closing Costs
Once you determine how much to save for a down payment, be sure to factor in closing costs. The home seller may be willing to cover closing, and you can request that in your written offer but it isn't always possible. To be safe, budget two to five percent of your loan amount for closing costs.
Ready for more home buying tips? Read part two of our blog, detailing more considerations for home buyers here.