I Want to Buy a Home Part 2. Now What?
Home loans
HELOC
Personal savings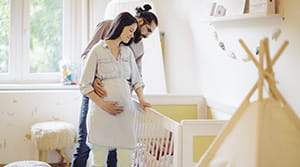 In our earlier blog, I Want to Buy a Home Part 1, we discussed topics like affordability, credit scores, down payments and closing costs. Here are five more tips to help make your home-buying experience a positive one.
Avoid Big Financial Changes and Pay Off Debt
Lenders will look at your debt-to-income ratio and assess your spending habits. They may also look at how you manage your money. Bounced checks or negative balances can be as bad as poor credit. Having a steady source of income and conservative spending habits leading up to your loan application is ideal. Your debts will make a difference. Pay down high-interest debt, such as credit cards, to get your financial house in order.


Plan for Moving Expenses and Home-Related Costs
Moving comes with a price tag, especially when you relocate to a new city or need to transport a lot of furniture. You may incur expenses to make the home comfortable, from replacing flooring to buying appliances and window coverings.


Get Prequalified
Before you start house hunting, apply to get prequalified for your home loan. This allows a lender to estimate what they're willing to lend, based on your credit and debts. The lender will pull your credit scores to preapprove you, so you can start looking for your home. Shop around for a lender you feel comfortable with, ask them questions and take time to understand the process.


Find a Real Estate Agent
Choosing the right agent is essential to the process. You'll want an agent who knows your market and understands your housing needs and budget. But most important, you'll want to work with someone you trust and feel comfortable partnering with on this important purchase. Ask friends and colleagues for recommendations, and visit with more than one agent before you decide.


Get to Know the Neighborhood
The house may be amazing, but does the surrounding area meet your needs in terms of amenities, schools, safety and walkability? These factors can also affect the resale value of your home later. Consider visiting the neighborhood at different times of the day to get a sense of changing activity and noise levels. Don't get emotionally attached to a house until after the deal is done and you've moved in. Then you can love it like your first-born child.
Are you ready to buy? Learn more about home loan options from Banner Bank.