What is a HELOC and How Can You Use One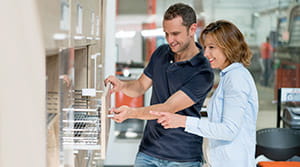 Whether it's a new roof that just can't wait or college tuition coming due, sizable expenses sometimes require financing.


If you are a homeowner, a source of funds that may be available is a home equity line of credit, or HELOC. A HELOC allows you to borrow up to a specified dollar amount using the equity built up in your home as collateral. The amount you can borrow will depend on your home value and the amount you owe on your mortgage.


The life of a HELOC is split into a draw period, lasting five to 10 years, followed by a repayment period, which can be up to 20 years. During the draw period, you can borrow up to the credit limit, pay down part or all of the balance, and borrow again. How you use the money is up to you. Some of the most common reasons homeowners take out a HELOC are:
Home improvements big and small
Education costs
Travel or vacation
Unexpected expenses/consolidating debt
Keep in mind that there are scenarios where you cannot or should not use a HELOC, including financing business transactions or buying stock. We recommend talking with your banker about your plans for this line of credit.
A HELOC is not the same as a home equity loan.
A HELOC is a revolving line of credit, much like a credit card. A home equity loan is a term loan borrowed in a lump sum with a fixed interest rate that must be paid off with consistent payments over a set period of time. Learn more about home equity loans here.


HELOCs provide many benefits that you may not find with other borrowing options: In some cases, a HELOC may provide immediate cost savings. There are minimal closing costs and your minimum monthly payment during the draw period can be interest only. Additionally, the interest rate for a HELOC may be lower when compared with other forms of credit and may even be tax deductible—although we recommend verifying this with your tax advisor.


When considering taking out a HELOC, keep the following in mind:
Know your options for fixed and variable rates, which vary with the prime rate
Find out all of the associated costs and fees
Understand the timeline for your project and your credit line—once the repayment period begins, you will be responsible for paying down the principal and the interest
If you think a HELOC fits your situation and financial goals, stop by your local branch or give us a call at 800-272-9933. We can help you navigate the lending process and answer your questions.