7 Great Reasons to Sign up for Paperless Bank Statements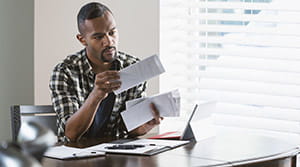 If you've been putting off switching to electronic bank statements, often called eStatements or paperless statements, those of us in banking understand. Many of us spent our formative years using grid paper before digital spreadsheets became the norm! But today eStatements offer so many advantages—from increased security to added convenience—it's really worth making the transition.

Consider the benefits of going paperless:

Enjoy easy, anytime access – You can view your eStatements as soon as they become available using your computer or mobile device, without having to wait for them to be mailed. At Banner, we email you when your eStatement is ready, and most banks do the same. Then just log in at home or on the go.

Gain greater security – Your digital documents are actually more secure than paper statements. You don't have to worry about eStatements being misplaced, stolen or delivered to the wrong mailbox.

Save on fees – Choosing eStatements may save you money as more institutions find they need to charge a fee to cover the costs of printing and mailing paper statements.

Free yourself from clutter – Paperless statements let you say "so long" to piles of paper and mail to sort and shred. At the same time, eStatements remain accessible to you in a secure digital file. At Banner, clients enrolled in eStatements can access 18 months of statements online.

Feel good about going green – Moving away from multi-page paper statements saves trees, especially when more of us do so. Choosing eStatements also reduces greenhouse gas emissions associated with paper manufacture, printing and distribution. Give yourself an eco-pat on the back!

Print if you want to – You can always print your eStatement if you want to have it in hand or download it to your device if you're traveling someplace remote away from cell service or secure WIFI.

Sign-up is a snap – Most banks make it easy to enroll online, and will guide you through the steps.
To choose eStatements for your Banner Bank accounts:
Log in to your Banner Online Banking.
Expand the Transactions menu and click Statements.
Follow the on-screen instructions and choose which accounts you wish to set to paper or paperless statements.
For your security, we always remind clients not to use public WIFI for online banking, shopping or other financial transactions. To learn more about eStatements, talk to your local banker or call Banner's Client Support Center at 800-272-9933.