Planning and financing your full house: Options for multigenerational living in a competitive housing market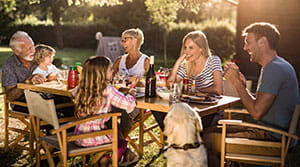 The multigenerational household depicted in The Waltons TV show of the 1970s and early 80s has new appeal for current and potential homeowners—and not just for nostalgic reasons. People are interested in the social and financial benefits of bringing an extended household under the same roof.
The cost and limited supply of housing has young adults living with parents longer and families welcoming others into their homes. Being able to care for an aging family member or having a grandparent to look after school-age children can provide peace of mind and offer substantial savings over caregiver alternatives.
While households have changed since the Depression-era setting of The Waltons, which had three generations in one home, the concept of "shared quarters" can make good financial sense in a competitive housing market. But how do you accommodate this approach today?
1. Update or expand your home to serve multigenerational family members.
Renovation is popular when the inventory of homes for sale is small. Take a hard look at what your place needs to serve your household. Adequate bedroom and bathroom space may be key to everyone's happiness. If you have too few bathrooms, adding a full or half bath can enhance resale value.
If your household includes an elderly family member, give extra thought to safety, privacy and accessibility. For example, replacing a traditional tub with a walk-in shower removes the need to step up and over. Extra lighting throughout the house and grab-bars near the tub and toilet add safety, and a hand-held showerhead can simplify bathing for people with limited mobility.
Our blog Five Financing Tools to Help Transform Your Home introduces loan types to consider, depending on the size and nature of your remodel.
2. Buy or build a home to suit your multigenerational household.
Draft a wish list of features like the number of bedrooms and your desired floor plan. That will be handy as you consult your realtor or contractor. A mortgage banker can help you determine how much house you can afford and offer financing for your situation.
Specific to multigenerational living, our Household Plus Mortgage helps you qualify for a larger loan by letting residing family members or boarders contribute to the household income when you buy or refinance a home. Refinancing can be a path to modify your current home if that appeals to you.
If you plan to build, our All-in-One Custom Construction Loan lets you include the lot purchase and construction into one mortgage with one closing.
3. Construct an additional dwelling unit.
An additional (or accessory) dwelling unit (ADU) is a small self-contained house on your property with its own kitchen, bedroom and bath. Often called an in-law suite, an ADU can serve as a guest bungalow or a rental cottage bringing in extra income. Some contractors specialize in ADUs and you can buy prefabricated units. Zoning laws vary, so check with your local jurisdiction early on. As with the other options, your banker can guide you to the right loan for your project.
Whichever avenue you choose, do your research, work with qualified contractors and realtors, and partner with a knowledgeable loan officer. Never feel obligated to hire the first person you contact.