A little house out back? Top financial and lifestyle reasons to build an additional dwelling unit on your property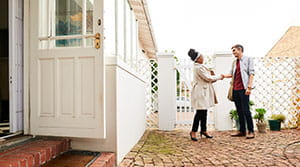 They've gone by a lot of names over the years, from in-law suites to backyard cottages, but additional—or accessory—dwelling units (ADUs) are an option to consider in a competitive housing market. An ADU is a small self-contained house complete with a bedroom, bathroom and kitchen, the latter being a defining feature.
Counties and municipalities across the country are exploring the idea and some states like California have embraced it. Certain locales even offer preapproved plans and expedited permitting to ease the housing shortage. But there's a lot of variability in zoning, so check with your local jurisdiction before you break ground.
In terms of benefits, an additional dwelling unit may:
Add value to your property.
Serve as a guest cottage with the potential for rental income.
Provide convenient, nearby housing for a reliant family member.
Help you balance privacy with proximity in accommodating a loved one.
Be designed and built to suit individual mobility needs.
Add more affordable housing while respecting the character of your neighborhood.
Benefit from streamlined permit approval and construction in many areas if you use a simple, single-story plan.
Qualify for financing via a home equity line of credit (HELOC), a home construction loan or other mortgage solutions.
Before you draw up plans, be aware that an additional dwelling unit:
Is a secondary housing unit on a single-family residential lot.
Requires a building permit and adherence to local zoning rules.
Does not have wheels. RVs don't qualify.
Must have a kitchen. That differentiates it from other habitable space on your property.
Cannot be larger than the primary dwelling. ADUs are generally limited to about 1,200 square feet. (You may build a larger unit and legally convert it to the main residence.)
Must be detached from the primary residence in most communities, although some jurisdictions define the term more broadly and allow basement and above-garage apartments. (Connecting the unit to the main residence by an enclosed breezeway with doors at each end can make it an addition that functions as a self-contained home.)
If you have space on your property, an ADU can offer several advantages, provided you navigate the details. To simplify the process, I encourage you to research local regulations, partner with a knowledgeable banker you trust and work with a respected and experienced builder.