Reasons to Have A Rainy-Day Fund and How to Start Yours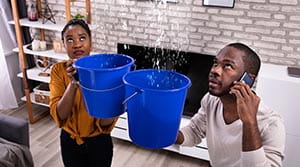 For many people, sudden and unpredictable expenses can be difficult to cover. It's important to save now so you're protected when things go wrong. Learn why starting a rainy-day fund is a good idea and ways you can have one set up.


What is a rainy-day fund and where should you save it?
A rainy-day fund is money set aside for smaller unexpected costs like parking tickets, vet bills and medical procedures, not covered by insurance. Experts report that more than half of Americans with savings were unable to cover an unexpected $1,000 bill. So, saving around $1,000 is a good start, but you don't have to do it all at once. Build it up, a little at a time.

You may be tempted to store cash around your house, like under a mattress or tucked in a closet, but you run the risk of losing it or having it stolen. For safety, keep your money in a federally insured account, like those at a bank or credit union. Consider a high-yield savings account where you can make unlimited deposits and withdrawals—one of the safest ways to store your money. With a high-yield savings account, you'll earn some interest on your funds and be able to access them at a moment's notice, which is critical.
Also consider another high-interest deposit option like a money market savings account. It allows your money to grow more quickly while helping you avoid unsecured market investments. With this type of account, you earn more interest the longer you save, making it better as a multi-year savings option.


Ways to start saving for a rainy-day fund
Consider setting up direct deposit. Ask your employer if they offer direct deposit and how you can sign up. In most cases, you will be asked to provide the routing number and account number where you would like funds deposited. This is one of the fastest and easiest ways to have money added into your savings account, without the hassle of depositing it yourself.

A great way to build your rainy-day fund is to set funds aside regularly. If you move money periodically between accounts, I encourage you to set up an automatic transfer of funds. Your bank transfers money from designated accounts on scheduled dates and times. Most banks allow you to set your own schedule online or in their mobile app. So, you can rest easy without having to set reminders.

Take advantage of your bank's financial management tools. Our Personal Financial Management (PFM) can help you get started and offers ways to track your spending and manage your budget within our Online and Mobile Banking tools. With PFM, you can view all your accounts, balances and transactions in one place. This can help you learn how much you can afford to put away. Learn more about this and many other useful tools with our Digital Banking Demos. The demos provide step-by-step interactive instructions on things like how to enroll in PFM, set up alerts or send money with Zelle®.


Consult your banker for financial advice
If you're interested in growing your savings or want help understanding financing, your banker is a good resource. He or she can provide information and solutions so you can be ready for whatever life throws your way.