Black Star Ranch: Growing Acres of Hoppiness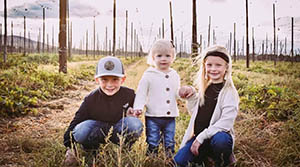 Long before craft brewing became the celebrated industry it is today, a Yakima Valley vegetable farmer had the vision to expand his operation and plant a key beer ingredient—hops—in 1940. Today, along with two other entities under the umbrella of Black Star Ranch in Moxee, Wash., the operation farms 850 acres of hops and more than 250 acres of apples. It's all run by multiple descendants of that insightful farmer, Jeff Gamache.
Hop flowers, also called cones, impart bitterness as well as floral, fruity and citrus notes to beers, and have long been valued for their antimicrobial effect. Black Star Ranch grows hops sought after by craft breweries—those producing six million barrels of beer or less a year—as well as large-scale producers. They've received many Hop Grower of the Year awards from big brewer Miller-Coors.
The decision to plant hops was followed by more innovation to improve efficiency, better manage resources and reduce costs, while focusing on quality produce. In the early decades, the farm installed a pioneering air circulation system in the hop drying kiln and became one of the first hop farms to conserve water through the use of sub-surface drip irrigation. More recently, in 2021, this Banner client installed solar panels on top of the baling shed. A new picking machine facility is the latest project, with equipment that processes hops more efficiently and ergonomically.
Banner Commercial Relationship Manager Patti Vasquez has banked the business through years of transition and recent growth, which the family credits to the development and popularity of craft brewing.
"Since farm revenues are market driven and not controlled by the producer, farmers are always looking for ways to operate more efficiently," She said. "They are the best stewards of the land, since that is the genesis of their whole existence."
Along with other family farms that make Moxee the Hop Capital of the World, Black Star Ranch is a shareholder in Yakima Chief Hops. More than a hop supplier, the grower collective serves as a resource for brewers, advocates for sustainability and aims to be a leader of innovation, quality and customer service. You can explore Black Star Ranch and meet members of the family in their Yakima Chief's
grower profile video
. To learn more about the company and see video of the hop harvest, visit
Black Star Ranch
.