Snoqualmie Gourmet Ice Cream: A passion for quality, flavor and sustainability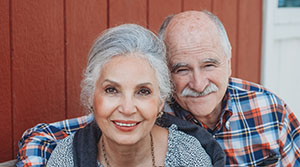 Summer may be ice cream season but one western Washington client makes ice cream that's so special, people love to enjoy it all year long. Owners Barry and Shahnaz Bettinger purchased Snoqualmie Gourmet Ice Cream in 1997 with a mission to create the very best natural ice cream, frozen custard, gelato and sorbet, all while respecting the environment. They source ingredients locally and use small-batch production for the best quality possible.
Located in Snohomish County, Wash., the company makes a rainbow of flavors, including salted caramel, peanut butter, sweet cream & berries, blueberry crisp, French lavender, chocolate brownie, smooth bourbon, ginger, lemon, s'mores and raspberry cheesecake, to name a few. Barry noted the company's new Asian-inspired flavors like ube (sweet purple yam) and black sesame are really popular.
Snoqualmie Gourmet Ice Cream has scoop shops in Snohomish, North Bend, Snoqualmie, and at their headquarters in Maltby. Their ice cream is also available by the pint in stores throughout Western Washington. Along with pints, the company produces larger tubs, single serving containers and ice cream bars, and offers contract packaging and private label manufacturing. In addition to dairy-based items, they specialize in keto, vegan, paleo and gluten-free options.
Sustainability is at the core of everything they do, and draws from Barry's experience growing up on a farm, learning that we should leave the land better than we found it. His belief that a business should hold itself to the highest quality and environmental standards was reinforced by his experience running a large dairy plant.
So for more than 20 years, the company has adopted sustainable practices and techniques as well as sustainable infrastructure and technologies, while staying abreast of new ways to support their goals. They source ingredients in Washington to reduce dependence on fossil fuels for packing and shipping. And their property in Maltby features rain gardens, bioswales and pervious concrete to support natural water movement in the environment. They've also installed solar panels, LED lighting and compressor waste heat recycling systems to reduce their energy footprint.
Banked by our SBA Relationship Manager Robin Dode, Snoqualmie Gourmet Ice Cream has been a Bank client since 2012. "Robin is exceptional," Barry said. "She has been so supportive through the years."
To learn more about the business, their ice cream flavors and their sustainable practices, visit the Snoqualmie Gourmet Ice Cream website.