Blue Mountain Action Council: Caring for Neighbors in Need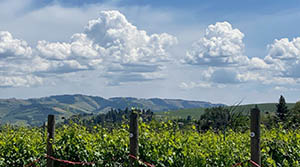 In addition to supporting nonprofit organizations throughout our footprint, we are honored to serve many community organizations as clients. Among them is the Blue Mountain Action Council (BMAC), a multi-faceted agency serving diverse populations across five counties in Southeast Washington.
Headquartered in Walla Walla, the nonprofit assists people who are experiencing poverty with services and resources to help them gain strength, independence and self-sufficiency. Much more than a food bank—which indeed they are—the BMAC offers a variety of training and education programs, including employment and jobs training, adult literacy tutoring, as well as asset building and financial literacy.
"They're a great asset to Walla Walla," said our Commercial Relationship Manager Casey Waddell. "They work tirelessly to provide support to many different members of our community in many different ways."
A Banner Bank client since 2003, BMAC provides veterans services, homeless assistance and energy assistance, and offers weatherization and home repair to improve the health, safety and efficiency of homes. In a region that experiences chilling cold in winter and extreme heat in summer, these services do more than provide comfort and cost savings—they actually help save lives.
The nonprofit also offers pro bono legal aid on matters such as parenting plans, custody and guardianship, divorce, child support, wills and estate planning, probate and tenant/landlord cases. BMAC encourages self-advocacy, helps people understand and manage court forms and processes, and provides translation services. They hold regular clinics on legal aid for veterans, bankruptcy and wills, as well as Smart Money classes.
Along with veterans, BMAC serves low-income people, seniors, individuals with disabilities and families with children. Like us, they are committed to supporting their neighbors and caring about their communities. Visit the
BMAC website
to learn more about this amazing client.