Bringing Communities Together for Joyful Celebrations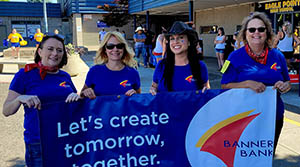 Supporting local celebrations is important, so we often bring the magic of community to life by volunteering and sponsoring an array of festivals and street fairs across our footprint. Here's a look by state:
Clambakes, chainsaw carving competitions and parades—Oregon has it all!
We've sponsored nearly 15 different events across the beaver state. This includes the 116-year-old Rhododren Festival in Florence which draws up to 10,000 visitors and is among the largest flower festivals on the west coast.
We also support celebrations like Eagle Point's 4th of July Parade and the infamous Sedro Woolley Loggerodeo TM. It features a parade, rodeo and the longest running international chainsaw carving competition.
Our sponsorship extends to events like the Watermelon Festival in Winston-Dillard, the Sutherlin Berry Festival, South Coast Dixieland Clambake, the Oakridge West Fir Tree Planting Festival and more.
Thousands gather for this popular Southern California event
The 30th annual Escondido Street Festival brings thousands of people downtown to support local vendors and businesses. Escondido Branch Manager Roxanne held a booth and joined in the fun. Last year, it brought more than 60,000 people. In fact, it's one of the largest events in Escondido.
Washington, home to music festivals, art shows and more
If you like art, visit Spokane for Artfest, the region's largest juried art fair benefitting the Northwest Museum of Arts and Culture. Our premier sponsorship helped support art education, exhibitions, and community programming for families.
We support noteworthy events like the Lynden Berry Festival that showcases the significance of the region, which produces more than 65% of the nation's red raspberries. In Burlington, we participate in the Very Berry Days Parade with a decorated horse-drawn wagon. We're also the premier sponsor for the Walla Walla Chamber Music Festival.
These examples represent only a fraction of the events we support because our communities are worth the investment.