Championing local baseball and sportsmanship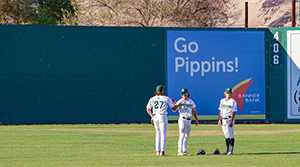 Like many Americans, we love a great game of baseball. We support several teams and baseball activities in the areas we serve, through sponsorships and volunteerism. From little league to the Minor League, bases are covered across our footprint. Here's a look at some of our recent activity:

Taking kids out to the ball game—For more than 15 years we have sponsored a night at the Boise Hawks stadium, benefitting Hope House, a non-profit providing housing for displaced and disabled children. Through our partnership with the Boise Sunrise Rotary, children at Hope House enjoyed a barbeque before the game and had the opportunity to meet the players.

Helping more people "Play ball!"—Many of our sponsorships support youth baseball leagues like the Mount Vernon Baseball Club in Burlington, Wash. This also includes the South Siskiyou Little League in Mt. Shasta, Calif., the Bandon Youth Baseball Team in Oregon and the Babe Ruth League's Cal Ripken Division in Oregon's Willamette Valley. Sponsorships help cover expenses for team uniforms and other game-related costs.

Stepping up to the plate in Lewiston, Idaho—We're a long-time sponsor of the Avista NAIA World Series in Lewiston, an event that brings millions of tourism dollars to the community each year. In fact, one of our employees served as the "honorary coach" for one of the teams this season, and our sponsorship included buying newspapers so players could read about the games.

Knocking it out of the park in Yakima, Washington—We were a season sponsor for the Yakima Valley American Legion, a baseball club that supports high school teams in this region like the Yakima Valley Peppers and Yakima Valley Pepsi Pak.

We were also a premier sponsor for the Yakima Valley Pippins Team and have been a key sponsor for many years. Every season, we work with the team on a hat design and give ball caps away to the first 1000 entrants for the team's annual Celebrate America Night. Shine on, Pippins!

Our support extends beyond the field. We're promoting teamwork and sportsmanship in the areas we serve and that's just part of our commitment to building better communities.