Empowering Communities Through Financial Education and Teamwork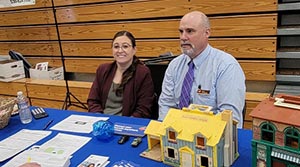 We know education is priceless, especially financial education. That's why we're committed to providing financial resources to schools, businesses and families across our footprint. Here are a few recent examples:
Supporting the financial health of students in Oregon
Members of our Pendleton Branch team presented to students at Blue Mountain Community College. We partnered with the Student Academy for Financial Empowerment to help students learn the importance of maintaining strong credit, and how to monitor credit reports and scores.
The team also presented You Can Bank on It, a Federal Deposit Insurance Corporation (FDIC) program about financial products, services and providers, as well as opening and managing bank accounts. We also presented this to high schoolers in Veneta, Oregon.
Encouraging safe communities through identity theft and fraud prevention education
Fraud is on the rise and the elderly are some of the most vulnerable. That's why Assistant Branch Manager Wendy presented ways to protect yourself from identity theft and fraud to seniors in Coos Bay, Oregon. Small Business Consultant Joshua also presented this topic to seniors in Spokane.
Inspiring middle schoolers in California
It's important to provide youth with tools to succeed, so we volunteer for events like Career Day. Our Corning, Calif. Branch Manager Brian and Assistant Branch Manager Renee visited Maywood Middle School to talk about interest rates, loans and credit. They also shared about banking and related careers.
Helping businesses add to their financial toolbox
We hosted events and presentations to businesses in the greater Seattle area. Treasury Management Sales Manager Tonya discussed the rising threat of cybercrime and provided tips to safeguard sensitive information, while Chief Appraiser and Appraisal Department Manager Dan shared about the outlook of commercial real estate, bringing together real estate developers and business owners.
These are just some of the ways we're equipping others with the tools to make informed financial decisions—because looking out for the financial well-being of our communities is at the forefront of what we do.
Pictured above: Branch Manager Brian and Assistant Branch Manager Renee visiting Maywood Middle School for Career Day.